Reading challenges that will revolutionise your bookshelf in 2022
Want to switch up your reading but don't know where to begin? Sarah Shaffi reveals ways you can challenge yourself in 2022.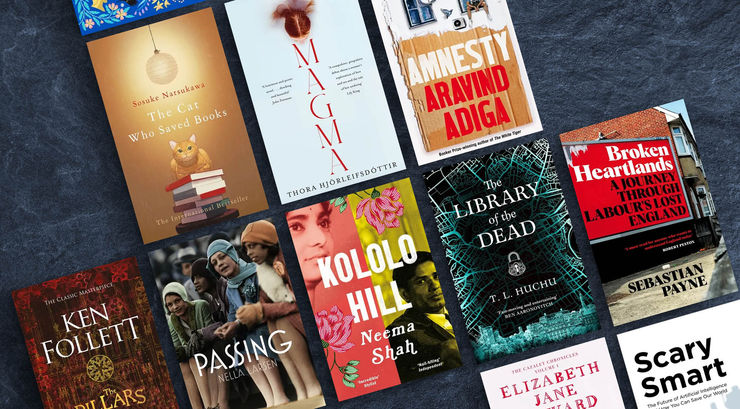 There are so many books published each year that it can feel like you haven't read what everyone else is talking about. But reading isn't about keeping up with the trends (although that can be nice), it's about providing you with satisfaction, excitement and escape.
In 2022, to give your reading some structure, why not try one, or more, of the following reading challenges? You can try a different challenge every month, pick one for the whole year, or combine a couple to create a challenge of your own. Whatever you choose, remember that the aim is to have fun and find some books you really love.
Travel the world
Books provide the perfect opportunity for us to visit new places, from the comfort of our own reading spots. Why not grab a map of the world and spend the year working your way around it with books? Not only can you include stories set in other countries, such as Neema Shah's Kololo Hill or Aravind Adiga's Amnesty, but you can also use this challenge to dip into the wealth of brilliant translated literature available, from Thora Hjörleifsdóttir's Magma, translated by Meg Matich, to Sosuke Natsukawa's The Cat Who Saved Books, translated by Louise Heal Kawai.
Something old, something new
Many readers will be familiar with shelves stacked with unread books, or teetering piles of novels you promised to read but then never got round to. So, to help mix up your reading and tackle those books, why not adopt a something old, something new approach? Alternate your reading in 2022 by reaching for something from your "old" pile in between every newly released book you read. Not only will you get through some of those long-kept books, we promise you'll find some gems in both your old and the new choices.
Read the winners (and losers)
How many times have you said 'I'm definitely going to read that' after a prize longlist, shortlist or winner has been announced? And then, well, you never have. Now you have the chance. For 2022, why not challenge yourself to read all those prize winners, and those who just missed out, that you've previously been interested in? You could pick one prize for the entire challenge – opt for the Booker Prize if you love literary fiction, The Baillie Gifford Prize for Non-Fiction if you want some non-fiction, or the Costa Book Awards if you want to do a challenge with multiple age groups – or mix and match with a different prize each month.
A poem a day (or week, or month)
It's highly likely that when you left school, one of the things you were happiest to leave behind was analysing poems until the words, ironically, lost all meaning. But thankfully, you don't have to do any analysing as an adult, you can just feel what the poem is trying to tell you. For this challenge, you can go for a poem a day, using Allie Esiri's books, including A Poet for Every Day of the Year, which are also perfect for getting children involved. Or you could pick different poets for each month, from Raymond Antrobus to Layli Long Soldier. Or read poems for your mood, with books like Poems to Fall in Love With, chosen by Chris Riddell, or Poems for Stillness. This is the perfect challenge to fit in between your other reading, or to pursue on its own.
Address a literary bias
Think romance novels are icky? Crime novels overdramatic? Historical fiction boring? SFF not out of this world? Address your book biases in 2022 by trying out a genre that you usually don't read, and we can guarantee by the end of the year you'll have found a new literary love. If you usually avoid family sagas, we recommend starting with Elizabeth Jane Howard's bestselling The Cazalet Chronicles. If you usually avoid romance, try beginning with Lily King's Writers & Lovers. For historical fiction, grab Ken Follett's The Pillars of the Earth trilogy, and for SFF grab T. L. Huchu's The Library of the Dead.
Learn while reading
If you like picking up new skills or learning new things, a non-fiction reading challenge is perfect for you. Pick a set of books on subjects that you're interested in (if you love politics, go for Sebastian Payne's Broken Heartlands for example), or go for something completely different; maybe you've never read about dance before, in which case you should grab Georgina Pazcoguin's Swan Dive. For the technically minded, Mo Gawdat tackles the ever-growing force of AI in Scary Smart. From memoirs to histories to polemics, there's a book for everything you might want to know about.
Tackle the classics
Sure, the classics include all those authors from long ago you've heard of (from Jane Austen to Charles Dickens), but they also include a whole host of older and newer writers you perhaps haven't come across before, such as Kahlil Gibran, Nella Larsen, Richmal Crompton and Mikhail Bulgakov. You can combine this challenge easily with the travel challenge, finding books that are considered classics in different countries to expand your reading.
Ready to challenge your reading? Discover more about Sarah's recommendations: