Make Joe Wicks's OMG Popcorn Orange Chocolate Squares
A delicious treat from Joe Wicks's The Fat Loss Plan.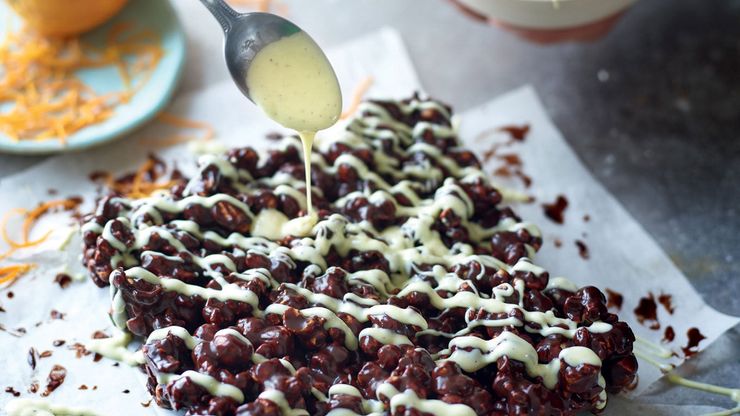 Make these Chocolate Orange Popcorn Squares from Joe Wicks' new book, The Fat Loss Plan for an easy to make occasional treat. The whole family will love them!


Total time

1- 2 hours (chill time)

Prep time

10-15 mins

Amount

10

Ingredients

1/4 tsp coconut oil
3 tbsp popping corn
150g dark chocolate
broken into small pieces
75g butter
cubed
75g golden syrup
4 tsp finely grated orange zest
40g white chocolate
Line an 18cm square, loose-bottomed cake tin with non-stick baking parchment.
In a large non-stick lidded saucepan, melt the oil over a medium heat. Add the popping corn.
Cover and cook, shaking the pan frequently until the corn has popped.
Place the dark chocolate, butter and golden syrup in a glass bowl set over a pan of gently simmering water (making sure that the water does not touch the base of the bowl). Allow to melt and stir to combine.
When the chocolate is smooth, stir in half of the orange zest.
Mix the popcorn with the chocolate mixture to coat evenly and then spoon the mixture into the prepared tin, pressing down firmly with the back of a spoon. Chill for 1-2 hours, or until set.
Carefully turn out the mixture onto a board and remove the paper. Melt the white chocolate as above and drizzle all over. Sprinkle over the remaining zest. Then transfer to the fridge and chill until the white chocolate has set.
Using a sharp knife, cut into sixteen equal squares and serve.