Introducing: England: Poems from a School
Picador poet and English teacher Kate Clanchy introduces some of the poets who feature in new anthology, England: Poems from a School.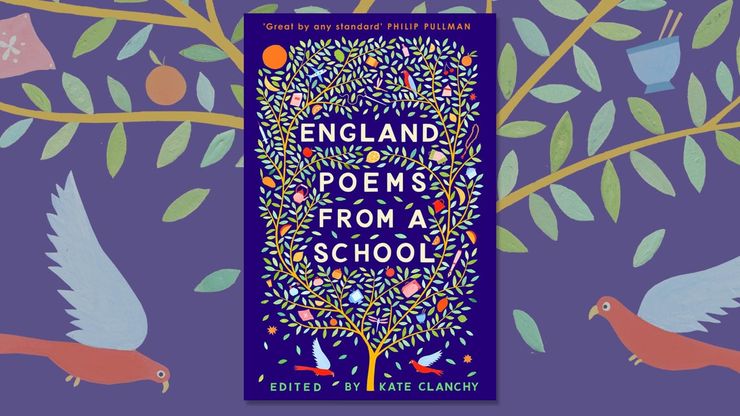 Picador Poet Kate Clanchy shares the story behind new poetry anthology, England: Poems from a School, and introduces some of the poets whose work features in the collection. England is published in paperback and ebook on 14th June 2018.
For the past 9 years I've been working as Writer in Residence at my local comprehensive school, Oxford Spires Academy. It's the chosen school of Oxford's many migrants: more than 30 languages are spoken here, our students come from all over the world, and everyone, including the white British students, is a minority. That makes for a very special, open culture, and a very creative one too: our students paint, dance, act, and sing with enthusiasm, all the time. And they write: in fact, in the last five years, we've become the UK's most successful poetry school, winning all the competitions for young people multiple times, creating a Ted Hughes Award nominated radio programme, and, most recently, enchanting Twitter and winning thousands of followers with their direct, moving verse.
England: Poems from a School brings together our very best poems in one anthology to create a rich portrait of England as it is experienced by its youngest migrants. The result is very likely to make you cry - but not just because of the sadness of some of the stories. There is an openness here, a warmth, a reality which speaks directly to the human heart. These are also poems to share and show: to young people and old, migrants and their neighbours. The poems document migration, which a central experience of our contemporary world, but they also remind us of the ancient purpose of poetry; to share, to explain, and to remember.
Home byMohamed Assaf (12)
I miss being in the land
where I was born and grew up.
Our dreams are there
but my destiny is not to be
with Damascus who gave me my soul.
Damascus where the sun rises in my room
and the birds sing at my window.
Damascus, my mother.
Mohamed wrote this very moving poem in Arabic in a workshop with the Iraqi poet Adnan Al- Sayegh just a few months after he arrived in our school from Syria, and it was translated with help from @CreativeMultilingual. Mohamed has written many poems since and is a huge star on twitter. He also likes basketball.
From Origins, byAzfa Awad (18)
I grew up here:
resting under the palm trees
drinking Dafu juice,
snoozing on the Baraza beneath the stars.
I grew up here: in the Gorbals,
with Kwiksave, the Junkies,
and chucking snowballs;
watching fireworks
on the eighth floor of my council flat,
listening to the bangs and cracks;
watching the orange flames
flower out.
This is part of the stunning poem about her Tanzanian origins and Scottish childhood that won Azfa Awad the Tower Poetry Prize in 2013. She's since gone on to university, and to launch her own poetic career. Azfaawad.com
A poem by Amineh Abou Kerech(13)
Can anyone teach me
how to make a homeland?
Heartfelt thanks if you can,
heartiest thanks,
from the house-sparrows,
the apple-trees of Syria,
and yours very sincerely.
Amineh and her sister Ftoun are refugees from Damascus. They write poetry together, helping each other to understand their journey from their beloved home. This poem was part of a long one, translated from the Arabic, which won Amineh the John Betjeman Prize.
A poem by Shukria Rezaei (18)
I want a poem
that sits on a silver plate with
nuts and chocolates, served up to guests who
sit cross legged on the thoshak.
A poem
as vibrant as our saffron tea
served up at Eid.
Let your poetry
texture the blank paper
like a prism splitting light
Don't leave without seeing all the colours.
Shukria arrived in our school when she was just 14: traumatized by the conflict she had witnessed in Afghanistan but very determined. She wrote poetry almost before she had the English words to do so. This poem, like so much of her work, reflects her love for her Hazara culture.
From War Memoir by Azfa Awad (17)
I may have been small
but when trapped
between the claws of war
my voice could soar:
sound like the bangs and cracks
spat by the tongues of fireworks;
And when I ran
away from their biting guns,
my feet could dance,
skim above rose petals
dripping from my toes.
Azfa Awad remembers the trauma that forced to migrate to the UK. Her rich rhymes and sensual, unsentimental memory of exactly what it felt like to be a child marks her out as a poet. Azfaawad.com
From When I came from Nepal by Mukahang Limbu (15)
I did not know,
of silence in the streets,
or the secret whispers on the buses,
or the sly gestures of restaurants.
In this place,
where I did not know,
the things I did not know
embrace me in ways
I didn't know.
This is part of the poem which won Mukahang the First Story National Writing Competition when he was just 13. It reflects his Nepalese origins and his perceptive, yet very positive, feelings about his move to England when he was five. Mukahang is interested in theatre and languages as well as writing and we all expect him to be famous.
Hungary by Vivien Urban (14)
Look,
these flat lands
before you. Endless sky
fills empty space.
Stand here,
and open up your mind.
Notice the light
riding on its cloud horse
throwing shadows
on the grassy ground.
Stand here
and hear the whistle of the wind
blowing the golden sand.
Remember it,
elsewhere,
the free and wild wind,
as a gentle touch.
Vivien had been in England for less than three years when she wrote this beautiful poem about her homeland in response to Auden. She went to be our Head Girl, get stellar A Levels and win a place at St Andrew's University.
My Poem is a Jackfruit by Emee Begum (16)
The smell of it clings.
And the inside feels
like the gooey ink
that my brother puts
in his red car engine.
It is tough as wood,
scaly as a dinosaur.
But inside, soft as wool.
and the taste is
sweet heavens,
the world's greatest foods
having a party.
Emee's poems have a very special childlike vision, and often remember her Bangladeshi childhood. Jackfruit are the huge rugby-ball shaped fruit with a soft centre which sometimes appear on UK street corners, but in Bangladesh are the national fruit.
Sylhet by Rukiya Khatun (16)
There,
Sun birds chipper,
Their feathers, light lime,
Seep in the sunshine.
Mango trees
Summit and soar,
Stalk high above
The forest floor.
Where
A Bengal tiger,
Obsolete
As an emperor
Trembles
As the hushed wind-
Breathes –
Rukiya's poems were always about her childhood in Bangladesh and her journey to England when she was six. This poem shows a child's vision of a jungle and has a gorgeous soundscape.
Homesick by Shukria Rezaei (18)
Today, I thought of my mud house:
The rough walls standing tall;
The fresh smell of clay on the floor;
The scraping of dirt from my shoes.
Today I missed the jagged roads.
The horizons of mountains looming
with calming familiarity.
The way the sky flowered
The way I used to live.
Shukria grew up in a small village in the mountains of Afghanistan, and always remembered it in her poems. After a year as our Forward Arts Foundation Student, she won a place at Goldsmiths to study politics.