The Picador team share their books of the year
As 2017 draws to a close some of the Picador team reflect on the books they've loved reading this year.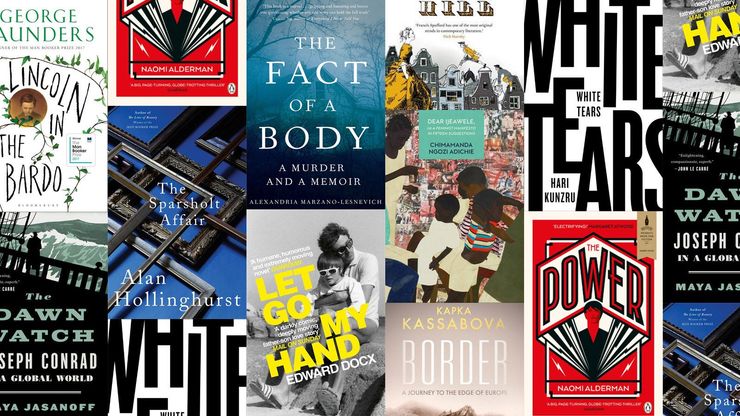 Francesca Main, Publishing Director
This year two novels – George Saunders' Lincoln in the Bardo and Naomi Alderman's The Power – floored me with their originality, imagination and wit and made me feel newly excited by what fiction can do. But I also loved the quieter pleasures of Elizabeth Strout's Olive Kitteridge and Katherine Heiny's Standard Deviation, books that mirrored the joys and pains of everyday life.

The book I've recommended most often this year is Alexandra Marzano-Lesnevich's The Fact of a Body. Part memoir, part true crime, it's a wholly extraordinary exploration of memory, murder, trauma and inheritance that asks searing questions about morality and truth.
Ansa Khan Khattak, Editor
2017 felt like an excellent year for authors experimenting with the novel form and what fiction can do.
George Saunders' Lincoln in the Bardo was a very worthy Booker winner, in a year where the shortlist teemed with brilliant writers. The fact that Saunders' novel manages to be so playful in terms of form, but sacrifice none of the emotion that one might expect from an account of a father visiting his son's tomb makes it certainly one of the best novels I've read this year.
I also found Hari Kunzru's White Tears absolutely brilliant. Quite aside from the dark plot – which becomes more like a ghost story the further in you get – the questions it forces the reader to ask about authenticity, exploitation, and appropriation, seem very much like questions we should be asking ourselves today.

And if I might pick a book which technically fell into last year, but in 2017 received the recognition it very much deserved: I would urge anyone who hasn't read David France's Baillie Gifford-winning How to Survive a Plague to do so. It is many things: an incredible work of journalism, a devastating story of loss, a testimony to the power of grassroots activism, and an important reminder that the AIDS crisis was nothing short of a plague – the handling of which on the part of those in positions of responsibility fell tragically and unforgivably short.
Ravi Mirchandani, Associate Publisher
From my reading, non-fiction excited me more than fiction this year. One exceptional book was no better than I had expected, Harvard historian's Maya Jasanoff's The Dawn Watch: Joseph Conrad in a Global World. Part criticism, part biography, part travel writing, partly a book about how Conrad's writings illuminate our world as well as his, but mostly unclassifiable, Jasanoff's new book is as original and revealing about the world as her previous two. As Patrick French put it in the Guardian 'The Dawn Watch will win prizes, and if it doesn't there is something wrong with the prizes'.

The other was to me a discovery. It is not often that I buy a book by a writer unknown to me on the basis of a single rave review, but I entirely shared the enthusiasm of the Sunday Times reviewer of Kapka Kassabova's Border: A Journey to the Edge of Europe. Writing about the borderlands between Turkey, Greece and Bulgaria, between the Islamic world and the Christian, in an equally unclassifiable combination of oral history, memoir, literary reference and travel writing, poet Kassabova writes both beautifully and insightfully about a tiny part of the world writ large.
Kris Doyle, Senior Editor
My choice of fiction is going to sound short-sighted, but I'm afraid it's true: my favourite novel of 2017 was a Picador. Let Go My Hand by Edward Docx did something truly rare in my experience of reading fiction: it made me both laugh and cry. It has a fine literary intelligence, crackling sentences, a lot of heart, and characters so vividly drawn I wished I could meet them in real life. I loved it!

Although I read a lot of good non-fiction this year, there was one book that stood out. Dear Ijeawele by Chimamanda Ngozi Adichie. I rushed through it on holiday the first time in a single sitting, enjoying her wit and argument; then I read it a second time to reflect on her wisdom, articulacy and masterful prose. I've turned to it for reference a few times already this year, and I've bought several copies for other people. It's a very small book, but it's full of brilliance. It moved me, provoked me, changed my mind, made me nod along in agreement; it offers hope as well as warning. I'd recommend it to anyone.
Elle Jones, Metadata Manager
This year Frances Spufford's Golden Hill was a real stand-out for me. Set in the early days of New York, it's an astonishingly vivid and visual novel, with a cleverly crafted plot. Each scene is so beautifully brought to life – it's one of the most transporting historical novels I've read in a long time.

I also deeply enjoyed Katherine Arden's enchanting Russian fairy tale, The Bear and the Nightingale. It's really rich and complex, and absolutely perfect for those who love Old Peter's Russian Tales by Arthur Ransome as much as I do.
Sam Book, Content and Communities Manager
Alan Hollinghurst's brilliant new novel The Sparsholt Affair captivated me this year. While reading it I shifted from wanting to tear through each section and immerse myself in the lives of the Sparsholts, and put it down and stop reading so that the book wouldn't be over so soon! I was also lucky enough to get to speak to Alan about the novel for this seriesseries of videos which was a real highlight of my year.
Paul Martinovic, Communications Manager
My pick of the Booker crop this year were Colson Whitehead'sThe Underground Railroad and Mohsin Hamid'sExit West, two high concept yet almost unbearably poignant novels that combined elements of genre fiction and the fantastical with brutal socio-political realities. This seemed to be a common theme in all the good stuff that came out this year, including Jordan Peele's satirical horror movie Get Out and TV adaptation of The Handmaid's Tale. In a similar vein, I'm really looking forward to the publication of Matt Ruff'sLovecraft Country in 2018, another genre-bending American satire that plonks Chthulu down in the middle of the Antebellum South, and is set to be adapted by Peele into a forthcoming HBO series.

In non-fiction, I was lucky enough to work on two angry, timely, sui generis works in the form of Will Storr'sSelfieand Jonathan Taplin'sMove Fast and Break Things, two mind-blowing, deeply personal books that took on the dangerous myth of self-esteem and the terrifying might of the technology monoliths respectively. The book that perhaps might end up influencing me the most, however, was salt Fat Acid Heat by Samin Nosrat, a genuinely remarkable textbook-cum-cookbook that distilled the art of making good food into just four words. Actually, now that I've read it, I can condense it down even further -More Salt, Stupid. Now, where's my book deal?
Gillian Fitzgerald-Kelly, Editorial Assistant
I was lucky to get my hands on a proof of Lullaby by Leïla Slimani, translated from the French by Sam Taylor, a few months ago and it has lingered with me ever since. Immediately tragic, violent and chilling, it is a powerful novel hinging on obsession and power. Myriam and Paul live in Paris with their two children and are in search of a nanny to instil some structure in their busy lives; Louise seems like the perfect candidate: a modern-day Mary Poppins who cooks, cleans and adores their children. As the new family unit grows closer and closer, we learn more of Louise's past and soon the strange toxicity surrounding her begins to seep into the idyllic household. It is an exquisite distillation of the quotidian injected with absolute terror and I was gripped by its intensity, elegance and horror. It is set to publish in January 2018.
KishaniWidyaratna, Assistant Editor
In this horrendous year I've been most interested in voices that are speaking out from the margins demanding to be heard. InWhy I'm No Longer Talking to White People About RaceReni Eddo-Lodge delivers a searingly powerful account of the structural racism at work in British society today; told with a dry wit and frank honesty, it is simply essential reading. In the year that transphobia reached a hideously ugly fever pitch Travis Alabanza's chapbookBefore I Step Outside [You Love Me] featured pieces that were all written whilst travelling and experiencing harassment and yet through them Travis sings a song of resistance, bold and beautiful. In the year that saw sexual harassment as a traumatic daily headline, Sophie Collin's publication Small White Monkeys, brilliantly addressed questions of self-expression, self-help and shame around the experience of abuse. These are writers confronting their greatest fears in their work, in doing so they offer up their voices to us to learn from and be emboldened by. Lastly, for Christmas I want to receive Emily Wilson's extraordinary and ground-breaking translation of The Odyssey, the first by a woman into English, published just in time for placing under the tree.
Sophie Jonathan, Senior Commissioning Editor
2017 was a year in which I read a lot of fantastic fiction. American War by Omar El Akkad is set against the backdrop of a second American civil war, and is one of those brilliant dystopian novels that feels all too possible: it is a book that throws itself forward into a future where climate change and a ban on the use of fossil fuels have radically altered the way we live and the things we fight over, and it explores how extremism can get its teeth into anyone who has hurt in their past and a cause to believe in. The Power by Naomi Alderman presents another dystopia, and I think it's the book I've recommended most this year. I've never felt so energized by a novel and yet to read it is to also experience a sense of growing discomfort. It's a work of drama and intrigue, and it's the sort of novel that forces you to stop and interrogate the way you speak and interact with others. Exit West by Mohsin Hamid is a clever, exquisitely wrought story, a book that feels whole and perfect the moment you finish it, and The Underground Railroad by Colson Whitehead was a thrill: simultaneously a heart-in-your-mouth story with a singing central character and an explosive and exciting experiment in the possibilities of fiction. Mothering Sunday by Graham Swift was exquisite and vividly realized - a pleasure to curl up with on a lazy weekend morning. And I had my annual return to Elena Ferrante with Those Who Leave and Those Who Stay, which was sublime.