Floored authors spill the beans on their unique collaborative YA novel
Our 7 Floored authors on writing a collaborative YA novel.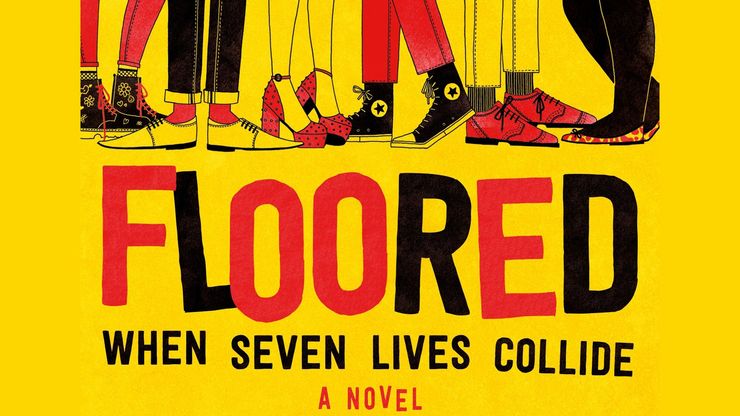 Seven of the UK's best and brightest YA authors have collaborated on unique young adult novel Floored. Here they share what it was like to work on this very special project, and discuss exactly how the novel came together.
I was excited from the moment I first heard about Floored. A chance to collaborate with some of the UK's very best YA authors? Who were also my friends? Um, yes please. From the very first meeting in Brighton, all of us clustered around a table, sharing snacks and ideas and talking all at once about what would become Floored. We built the entire story together; a true collaboration. It felt like being part of something magical. The meetings were my favourite part about the whole process, meeting up every few weeks to brainstorm the next chapter and talk about where our characters were going to go next.
Writing is usually a pretty isolated experience and it can be very lonely, so it was such a joy to be able to share it all with six other brilliant women. Sometimes the logistics got complicated - it was very hard finding the right time for all of us to be online simultaneously so we could write a Whatsapp conversation as our characters in real-time! But it was all so worth it - Floored is amazing and I'm so proud of what we all achieved together.
Hi, my name is Holly Bourne and I'm a control freak. Seriously, I take Ravenclaw to the extreme end of the spectrum.
So I was pretty damn nervous about Floored. I was scared of not being solely in charge of the book's steering wheel. And I was most nervous that these authors that I loved and respected would realise all my secret control-freak tendencies and not want to hang out with me anymore. But, like with most anxiety, my fears were unfounded. In fact, I'm now scared to going back to writing a book alone. It was so much fun having a whole gang of talented writers to chat through plot-points with. Also to have someone to share the writing with! I'd wake up one morning and these brilliant chapters would arrive in my inbox that I hadn't had to write! It was like magic. Please don't make me go write a novel by myself again
*holds onto other Floored authors' feet and gets dragged along the ground on her belly* 
Like everyone else, I was nervous, partly because I'd never written a book with anyone else before, but mainly because I was convinced that I was going to make an utter arse of myself. 
I was late for the first meeting, which didn't help, so I thought I'd slip in quietly and not draw too much attention to myself. That didn't happen of course because, well, it's me, so I did the exact opposite: I said hello then immediately landed arse first on the floor of the cafe. I'm still not sure how it happened, but there I was, legs in the air, looking up at the ceiling and the scuff on the toe of my boot like, 'Smooth, Byrne.'
If you're trying to make a good first impression, I wouldn't recommend it, but it certainly broke the ice! 
Mercifully, I got through the rest of the process without further injury, which is surprising given how painful writing a book can be at times. If anything, this was the complete opposite. Having the others there to support and cheerlead and literally help me off the floor was amazing and I feel so very lucky to have been a part of this with them. 
Whenever I told anyone I was writing a book with six other writers, they'd tip their head to one side and say with great concern, "And how's that going?" as if they expected me to break into tears at the trauma. What they actually got in response was, "Oh my God it's amazing!" Writing is a very lonely job, and you often have to find your own reward in the process as you go along, but here, I felt like I had six cheerleaders, supporting and enthusing me all the way along. The only moment of controversy I remember was at a meeting where I got very stressed about the fact that no one would agree to fix the logistics of one of the parties - I think it was because we all fell into our different characters in how we responded to the concept of being organised!
Basically, this was Ocean's 8, but for YA book writing. Petty's 8, where our editor, Rachel, was Debbie the Mastermind, and me . . .  well, I was definitely Amita; crime - or in this case, contemporary - was not my usual job. But, like Amita, I wasn't going to miss the chance to miss the chance to work with the top names in the field, and do something bonkers and brilliant with a potentially huge payoff. Which was writing a collaborative contemporary YA novel, not committing a crime. 
And the whole thing was bonkers and brilliant - from the email from my agent saying 'Pssst, do you want a slice of this pie?'; to meeting in a cafe in Brighton and coming face-to-face with my accomplices; brainstorming over tea and cake about what the hell we were going to do; rushing home to develop my a̶l̶i̶b̶i̶  character; That's a joke. We wrote a book, we didn't do a heist. 
The best thing for me - and I think everyone feels the same - was having people who Got It. Having people in the exact same boat you were, at the same time, facing the same struggles - it doesn't happen often when you're a writer. Unlike menstruation cycles, writing cycles don't sync, no matter how often you hang out with the same people; someone's always beginning when someone else is ending, someone else is plotting while another person is editing. So to just have a chance to really collaborate and empathise on something, every step of the way - that's rare. And magical. Like the perfect crime. 
Writing a book with six other authors sounds bonkers but Floored is probably the most joyful and least stressful writing experience I've ever had. Writing can be lonely so bouncing ideas around with six other authors was a real treat. I quickly grew really invested in the various storylines and interactions, so much so that when it was my turn to submit a chapter, it almost felt like I was writing fan fiction. The very best bit of the process though was receiving a new chapter in my inbox and getting to read the next instalment of the story – genuine excitement every time!
When I was asked to join in with Floored – let's be honest – I was mostly terrified. I felt like I would be the least confident person in the room, the least experienced writer, quite possibly just the worst. I wondered why I'd even been asked.
 We had our first meeting in a café in Brighton. While I walked there from my house, wearing a ridiculous dress that I thought might cover up my nerves, I rang a friend and said I wasn't sure if I should go at all.
 'Make sure you order extra chips,' he advised. 'Then if and when it all goes wrong, at least you got some chips out of it.'
 Good point. I'd go for the chips and see what happened. And then, unexpectedly . . .  I had fun. We all ended up spending the whole afternoon in the café, chatting and excited and a bit nervous.
 Not only that, I realised that everyone felt pretty much the same. No matter how successful and how experienced, we were all a bit nervous. It was a revelation.
 I feel proud of the book we've written and the firm friendships that have come out of it, and I also learned some great lessons along the way. If you feel scared and excited about doing something, you should probably do it. You're probably not going to be the worst person in the room, nobody is. And always order extra chips.
For more on Floored, watch our Book Break episode where Book Break host Emma and Zoe from readbyzoe discuss the book, BookTube and online friends: