YA authors you need to read!
We're delighted to introduce four wonderful YA authors who stormed the book world in 2018: Muhummad Khan, Tomi Adeyemi, Sophie Cameron, and Laura Sebastian.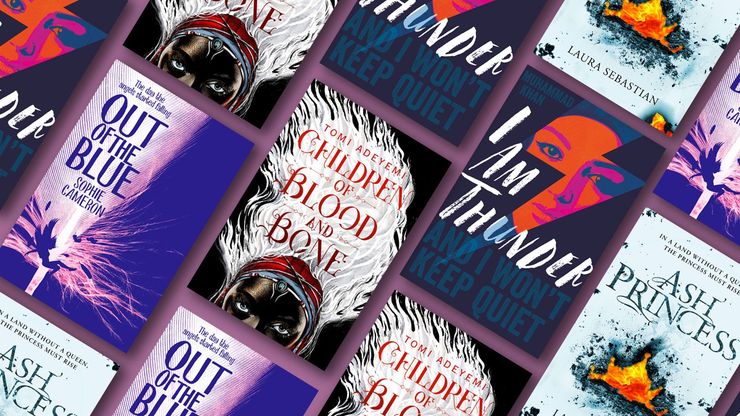 These four authors introduce themselves and what inspired them to write their first book, from race riots and the need to find diverse characters to non-traditional heroines finding their own way.
Without further ado - meet Muhammad, Tomi, Sophie, and Laura.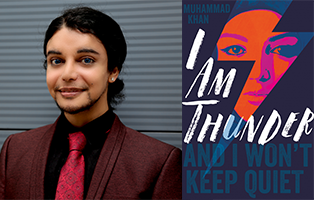 Hey there! My name is Muhammad and I live in a teeny-tiny house in South London. I do all my writing on my bed because my room just isn't big enough for a desk. I'm an engineer, a secondary maths teacher, and am now lucky enough to add 'YA author' to the list. Represent! Someday I hope to buy a bigger bedroom and a writing desk. Or failing that, a room on the TARDIS would do quite nicely…
When I was four, I created my first book. It was a picture book about three sister witches, illustrated with novelty crayons found in a Christmas cracker. Initially, my big sister freaked and thought I was channeling Satan. Four-year-old book-makers are kind of rare. Satisfied that her brother hadn't morphed into a creepy kid from a low-budget horror movie, my sister's fear switched to delight. She then wrote descriptions under the images and forced me to copy them. If I could draw like an older kid, then I should damn well be able to write like one too – Big Sister logic! The pages were stapled together, I scribbled my name on the front, and thus began a lifelong passion for creating books (and being bossed about by my sister!)
I Am Thunder is my first published novel. My amazing GCSE students pushed me to submit to publishers (big up Year 11, Class of 2017 who also got me hooked on anime!). They believed the story covered an important topic and saw themselves reflected in the diverse cast of characters.
The book tells the story of fifteen-year-old Muzna Saleem - a shy girl who wants to be an author, but whose parents want her to become a doctor to escape the cycle of poverty. Throw in one sexy bad boy, a weird older brother, some far-right madness, and watch the sparks fly. As things spiral out of control, the game is on, and Muzna must evolve fast. Watch her battle Islamophobia and radicalisation as she brings the thunder and lightning!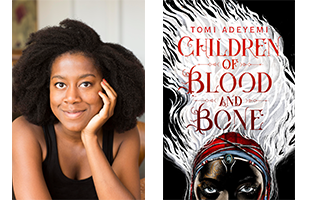 Children of Blood and Bone is the book of my heart in every way, shape, and form. It holds the magic and adventure that have made me an avid lover of fantasy and storytelling my whole life. It has the diverse cast I have always wanted to see in my favourite stories, but never got to. But above everything else, this story has my heart because it's given me something to hold onto during very dark chapters in my life.
This book was written during a time where I kept turning on the news and seeing stories of unarmed black men and children being shot by the police. I felt afraid and angry and paralyzed and helpless, but this book was the one thing that helped me feel like I could do something about it. I told myself that if just one person could read it and have their hearts or minds changed, then I would've done something meaningful against a problem that often feels so much bigger than myself. I hope this book is only the beginning of our adventures together.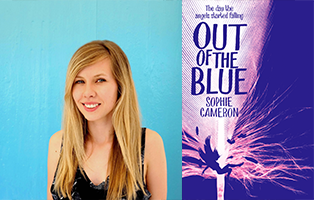 Hello! I'm Sophie. I'm from Scotland but am currently based in Ibiza, in a quiet part away from the parties. I work from home for a magazine, which means I spend a lot of time in my pyjamas. When I'm not working I'm usually reading or writing, but I also love learning foreign languages, cycling, and watching way too much TV.  
I decided I wanted to be a writer when I was six after I wrote my first "book". It was ten pages long and a blatant rip-off of the Sophie series by Dick King-Smith, only all the characters were dolphins. Later, when I was around 15, I wrote the most melodramatic novel of all time – it featured every social issue imaginable, and was about 37% emo song lyrics. Fortunately, nobody ever read it.
It took me a long time and lots of abandoned drafts to finish a proper book, but I eventually wrote Out of the Blue a few years ago. The idea came to me after seeing Lynx's Angels Will Fall advert, making it possibly the only novel ever to have been inspired by a deodorant advert. I originally wrote it as a short story set in Barcelona, forgot about it for a few years, then decided to rewrite it as a YA novel set in Edinburgh.
It's about a 16-year-old girl, Jaya, who is dealing with her mother's death and her ex-girlfriend's disappearance while angels fall all across the world, and what happens to her when she finds the first-ever angel to survive the crash down to earth. It takes place during the Edinburgh Festival and also features a strange cult, a West Highland Terrier, and lots of biscuits. It's about grief and guilt, what people believe and what they want to believe . . .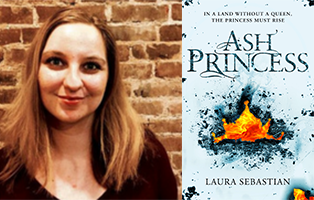 Hi, my name is Laura Sebastian. I've always been a big lover of fantasy books, but as much as I loved reading about brave, sword-wielding, warrior heroines, I knew that if I were thrust into their books, I wouldn't survive to the end of the first sentence. With Ash Princess, I wanted to tell the story of a heroine who was not strong in the traditional fantasy sense. Theodosia would be more likely to hurt herself than someone else if she tried to wield a sword and when we meet her, she is the quintessential princess in a tower awaiting rescue. But when she realizes she needs to save herself, she begins a journey of self-discovery. It's through her cunning, wit, and talent for reading people that she's able to stand a chance of regaining her throne and saving her people.
It's the kind of story I would have loved to read as a teenager—full of court intrigue, forbidden romance, and plenty of twists—which is why I started writing in the first place. I remember scouring the shelves of my Floridian high school library, looking for books that matched an idea I'd had only to realize it didn't actually exist yet. I started writing my first story that day and I haven't stopped since.
Currently, I live in New York City with my dog, Neville (named after another quietly brave soul). When I'm not writing, you can find me trying to make a dent in my precariously tall TBR pile, brewing endless pots of coffee, or experimenting with new baking recipes. Today, I'm taking a shot at orange anise shortbread, so keep your fingers crossed for me!
Watch our YouTube Book Break episode with guest Ben Alderson, who is raving about Laura Sebastian's Ash Princess.