The best new books to look out for in 2016
Here's our pick of the most gripping, romantic and exciting new fiction coming your way in 2016.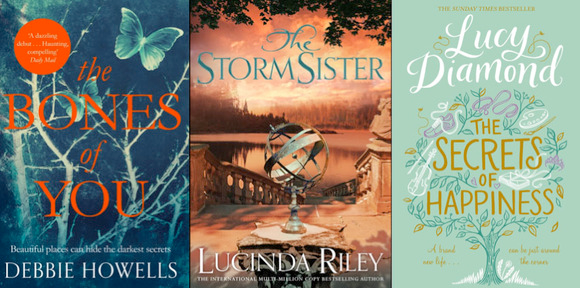 A new year means loads of brilliant new books to read! Here's our pick of the most gripping, romantic and exciting new fiction coming your way in 2016. Prepare for your 'To Read' pile to double in size.
A new year means loads of brilliant new books to read! Here's our pick of the most gripping, romantic and exciting new fiction coming your way in 2016. Prepare for your 'To Read' pile to double in size.
When eighteen-year-old Rosie Anderson disappears, the idyllic village where she lived will never be the same again.
Local gardener Kate is struck with guilt. She'd come to know Rosie well, and thought she understood her - perhaps better even than Rosie's own mother.
Rosie was beautiful, kind and gentle. She came from a loving family and she had her whole life ahead of her. Who could possibly want to harm her? And why?
Kate is convinced the police are missing something. She's certain that someone in the village knows more than they're letting on. As the investigation deepens, so does Kate's obsession with solving the mystery of what happened to Rosie.
The Bones of You is out now in paperback, ebook and audio.
Rachel and Becca aren't real sisters, or so they say. They are stepsisters, living far apart, with little in common. Rachel is the successful one: happily married with three children and a big house, plus an impressive career. Artistic Becca, meanwhile, lurches from one dead-end job to another, shares a titchy flat, and has given up on love.
The two of them have lost touch, but when Rachel doesn't come home one night, Becca is called in to help. Once there, she quickly realizes that her stepsister's life is not so perfect after all: Rachel's handsome husband has moved out, her children are rebelling, and her glamorous career has taken a nosedive. Worst of all, nobody seems to have a clue where she might be.
As Becca begins to untangle Rachel's secrets, she is forced to confront some uncomfortable truths about her own life, and the future seems uncertain.
But sometimes happiness can be found in the most unexpected places . . .
The Secrets of Happiness is out in hardback and ebook on 28th January.
Stella Ainsworth has settled for suburban peace with a pedantic husband, a dissatisfied daughter and a clutch of beloved grandchildren - who all take her presence in their lives for granted.
Then Cameron Keene, her boyfriend from her teenage years who'd left for America to become a rock icon of the Sixties, returns to England.
Much to Stella's astonishment, Cameron announces in an interview that his most famous song, which became a legendary love anthem across the world, was written about Stella, and that he has come back to find her.
What Became of You, My Love? explores the power of music to take us back to our youth, and asks if we can ever relive those giddy times when everything seemed possible.
What Became Of You My Love? is out in paperback and ebook on 28th January.
Ani FaNelli is the woman who has it all: the glamorous job, the designer wardrobe, the handsome and rich fiancé. But behind her meticulously crafted facade lies the darkest of pasts . . .
When a documentary producer invites Ani to tell her side of the chilling and violent incident that took place when she was a teenager, she hopes it will be an opportunity to prove how far she's turned her life around since then. She'll even let the production company film her lavish wedding, the final step in her transformation.
But as the wedding and filming converge, Ani's past threatens to come back and haunt her. And as her immaculate veneer starts to crack, she is forced to question: will breaking her silence destroy all that she has worked for - or, will it at long last, set Ani free?
Luckiest Girl Alive is out now in hardback, ebook and audio and is out in paperback in April.
Following the bestselling The Seven Sisters, The Storm Sister is the second book in Lucinda Riley's spellbinding series based loosely on the mythology of the Seven Sisters star constellation.
Ally D'Aplièse is about to compete in one of the world's most perilous yacht races, when she hears the news of her adoptive father's sudden, mysterious death. Rushing back to meet her five sisters at their family home, she discovers that her father - an elusive billionaire affectionately known to his daughters as Pa Salt - has left each of them a tantalising clue to their true heritage.
Ally has also recently embarked on a deeply passionate love affair that will change her destiny forever. But with her life now turned upside down, Ally decides to leave the open seas and follow the trail that her father left her, which leads her to the icy beauty of Norway . . .
There, Ally begins to discover her roots - and how her story is inextricably bound to that of a young unknown singer, Anna Landvik, who lived there over a hundred years before.
The Storm Sister is out now in hardback, ebook and audio and is out in paperback in April.
Janie's son is her world, and it breaks her heart that he has nightmares. That he's terrified of water. That he sometimes pushes her away and screams that he wants his real mother. That it's getting worse and worse and no one seems to be able to help.
In desperation, she turns to someone who might have an answer - but it may not be one she's ready to hear.
It may also mean losing the one thing she loves more than anything. Noah.
The Forgetting Time is out in hardback, ebook and audio on the 11th February.
1919 in Ashford-in-the-Water, Derbyshire. The Ryan family are adjusting to life in the aftermath of the First World War.
Walter has returned home a broken man and so it falls to his son Josh and daughter Emily to do their best to keep their family business as the village candle makers going.
Josh and Emily are great friends with Thomas 'Trip' Trippet, whose father owns a cutlery manufacturing company in Sheffield, and Amy Clark, daughter of the local blacksmith. Romance blossoms for Josh and Amy while Emily falls in love with Trip but is unsure if the feeling is mutual.
Their lives are changed when Trip goes to learn the family trade in Sheffield. Martha Ryan, determined that her son Josh will go up in the world, uproots her husband and children and moves them to live in Sheffield too. Moving into a back street court in the city is very different lifestyle for all of the Ryan family. But things start to look up when their new neighbour helps to find Emily employment as a buffer girl.
The Buffer Girls is out in paperback, ebook and audio on the 11th February.